Here is a list of our bucks that we are currently breeding on the farm.
If you follow us on Facebook or Instagram you will recognize their Farm names/nicknames and not their actual registered names.
Buffalo Clover Casanova
(Cash)
Polled
Blue Eyed
DOB: 02/24/2019
ADGA Pedigree for Casanova (Cash)
3 Sisters Ranch Wyatt's Wade
(Pinto Bean)
Polled
DOB: 2/12/2018
ADGA Pedigree for Pinto


Better picture coming soon

Sire: COTTONWOOD CROFT A WYATT EARP
Dam: THE BD EBONY
SS: AGS COTTONWOOD CROFT ARTHUR
SD: AGS WR ALM CATS
DS: THE DLK1 KIND OF A BIG DILL
DD: URBAN ACRES MS STORM SONG
SSS: AGS Diji Farm MT Iron Man
SSD: AGS VVR CRM Spotted Mustang
DDS: GCH CAMANNA LI MOONLIGHT SYMPHONY *B 86 V+V
DDD: GCH Urban Acres Patchy Clouds 3*M

Poblano
Polled
Blue Eyed
DOB 2/29/2020
Poblano is 12.5% LaMancha 87.5% Nigerian Dwarf
(Experimental Mini-LaMancha)
His kids can be registered with MDGA but NOT with ADGA
MDGA Pedigree for Poblano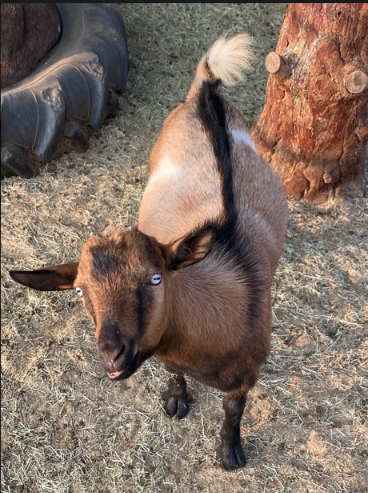 Sire: Sonoma Moon Hollow Starbuck
Dam: 2GoatsLaughing Hope
SS: The Sonview Ranch Corey (ADGA Pedigree)
SD: Fourba Creampuff (ADGA Pedigree)
DS: Hooligans Farm Mr. J. Brown
DD: Onacounna Fiona
*If a buck you are used to seeing on the farm is not listed here it is because he is not registered/ able to be registered.
**Better pictures will be coming soon in the more traditional format with the Bucks shaved showing their profiles once I get the time to shave them.

2022 Breeding Schedule
2022 Kids Here
2021 Kids Here
2020 Kids Here
2019 Kids Here
2018 Kids Here
Adult Goats for Sale (Including Yearlings)