Here is a list of our does registered with ADGA that we are currently breeding on the farm.
If you follow us on Facebook or Instagram you will recognize their Farm names/nicknames and not their actual registered names.
SIERRA ASPEN PS VICTORIOUS
(Vicky)
Polled
DOB: 03/25/2016
Pedigree for Victorious
Victorious is registered with ADGA
ADOBE ACRES PEGGY SUE
(Peggy Sue)
Polled
DOB: 3/15/2019
Pedigree for Peggy Sue
Peggy Sue is Registered with ADGA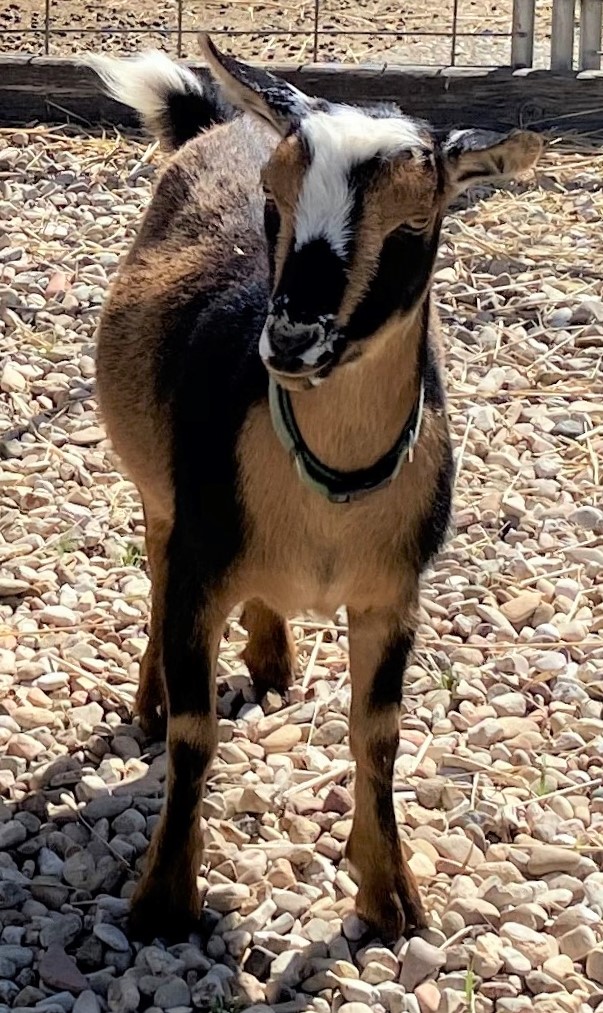 ADOBE ACRES UPTOWN BROWN
(Miss Brown)
DOB: 4/04/2017
Pedigree for Uptown Brown
Uptown Brown is registered with ADGA
Storybrooks Sweetums
(Coffee Bean)
Disbudded
DOB: 04/11/2017
ADGA Pedigree for Coffee


Sire: Castle Rock Henney Kilowatt AV+ 81
Dam: STORYBROOKS BIP BIPPADOTTA
SS: CRF Castle Rock Guy Noir +B+S
SD: Castle Rock La Jamais Contente VVVE 89
DS: Adobe Acres HH Sydney
DD: GRYPHON POP MAHNA-MAHNA
Bierbaum's Ember Pepper
(Ember)
Horned
DOB: 12/05/2019
Pedigree for Ember Pepper
Ember Pepper is registered with ADGA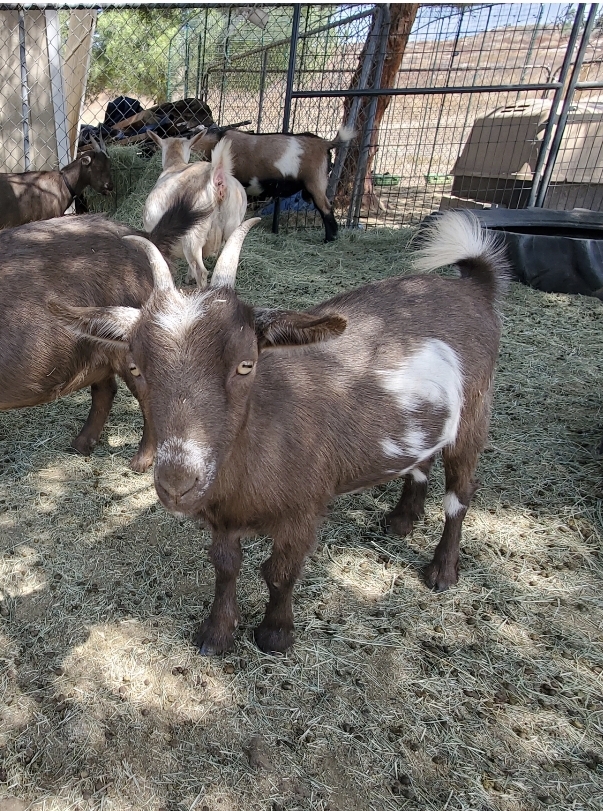 Sire: 3 Sisters Ranch Wyatt's Wade
Dam: Storybrooks Sweetums
SS: COTTONWOOD CROFT A WYATT EARP
SD: THE BD EBONY
DS: Castle Rock Henney Kilowatt AV+ 81
SS: STORYBROOKS BIP BIPPADOTTA
Turquoise Daisy Ro-wee-na
(Roweena)
Polled
Blue Eyed
DOB: 01/17/2018
ADGA Pedigree for Roweena
FS82 (+V+A) @ 01-03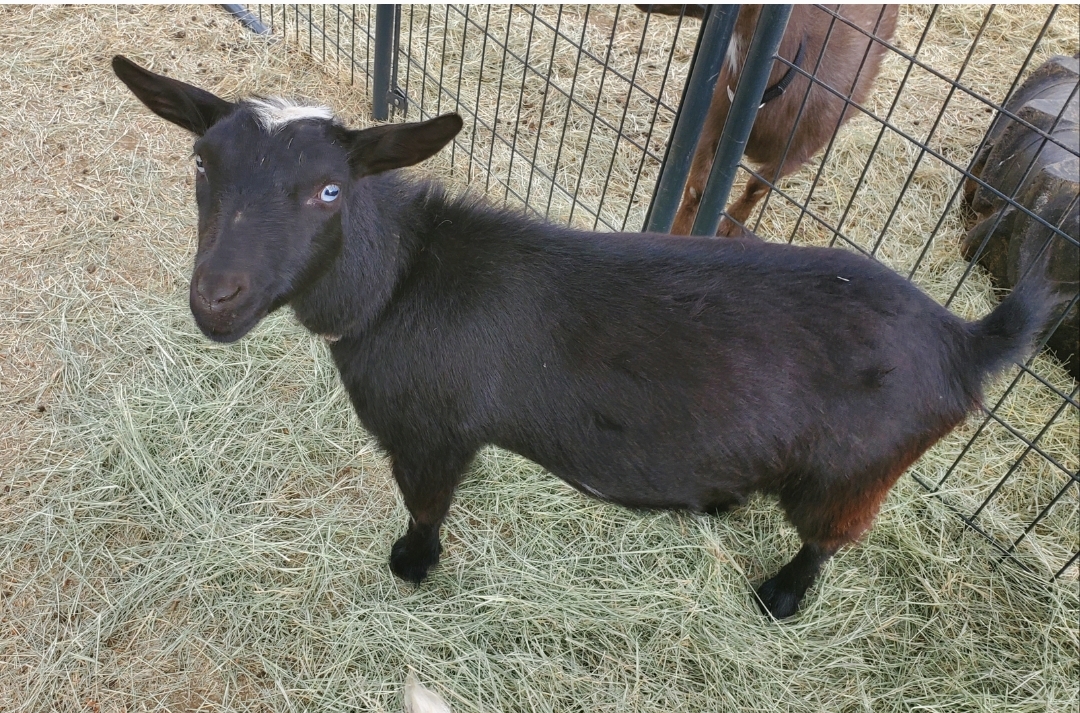 Sire: COTTONWOOD CROFT ROCKY ROAD
Dam: THE DERJA HELENA
SS: AGS COTTONWOOD CROFT ARTHUR
SD: Cottonwood Croft Pancakes
DS: VISTA'S FS DUSTY THE COWBOY
DD: VISTA'S HBERRY FLOWER
Turquoise Daisy BL Fraulein
(Fraulein)
Polled
Blue Eyed
DOB: 06/05/2020
ADGA Pedigree for Fraulein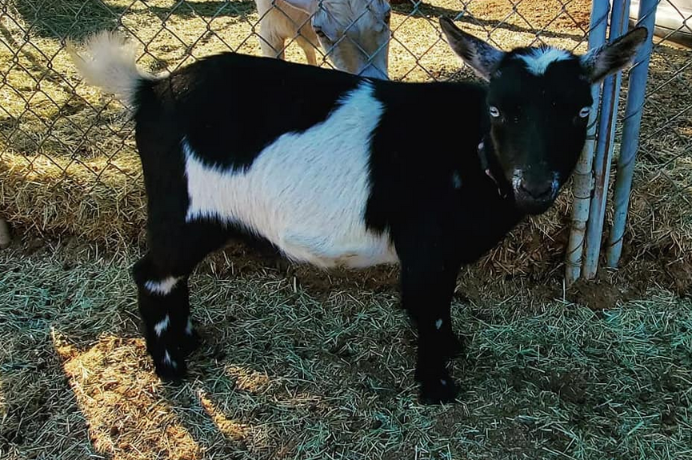 Dam: TURQUOISE DAISY BABY RUTH
Sire: CA BLACKBERRY'S UD LAFOU
SS: URBAN ACRES PP DOPPELGANGER
SD: CA BLACKBERRY'S BEAUTY
DS: SAIGE RANCH LL LUKE BRYAN
DD: TURQUOISE DAISY RO-WEE-NA
Living the Dream Smokey Quartz
(Smokey)
Blue Eyed
(Possibly Homozygous as both Dam and Sire have blue eyes)
Disbudded
DOB: 04/07/2019
ADGA Pedigree for Smokey
Living the Dream Easter Sunday
(Carolina Reaper)
Blue Eyed
Disbudded
DOB: 04/04/2021
ADGA Pedigree for Carolina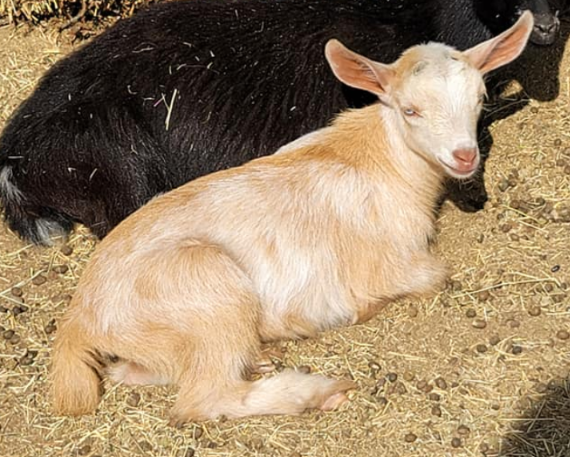 Sire: BLENDED FARM SS MAGNUM
Dam: Living the Dream Smokey Quartz
SS: DILL'S TS SIX STRING CIRCUS
SD: AV HOBBY FARM MAGGIE
DS: VISTA'S CO OUTLANDER
DD: CAROLS HEAVENSENT TRINITY

*If a doe you are used to seeing on the farm is not listed here it is because she is not registered or not able to be registered.
**Better pictures will be coming soon in the more traditional format with the Does shaved, their profiles and full utters once I get the time to shave them and they kid this year.

2022 Breeding Schedule can be found here.
2022 Kids Here
2021 Kids Here
2020 Kids Here
2019 Kids Here
2018 Kids Here
Adult Goats for Sale Here (Including Yearlings)