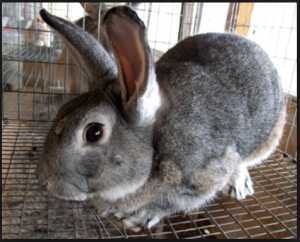 I am SUPER excited to announce that in August 2019 I will be getting a trio (1 buck & 2 does) of American Chinchilla rabbits to begin breeding rabbits on the farm!
I'm excited for a few reasons (besides baby bunnies all the time!) but also because of what a unique breed of rabbit the American Chinchilla is. There are few breeders of American Chinchillas and I'm going to be picking up mine from a breeder in Washington this August.
They are a Heritage breed meaning the breed was created in the US. Unfortunately this breed almost went extinct.  At one time there were only two breeders left in the United States. They are the only breed of rabbit to be considered endangered and I am excited to help their numbers grow.
I will be breeding them as pets, for meat and for their pelts which are extremely soft, like a Chinchilla though they are not related to the Chinchilla.
Updates will come once I have them in August as well as pricing.